13—14.05.2022

My Goals Are Bigger Than Yours: Vernissage Carmen Dusmet Carrasco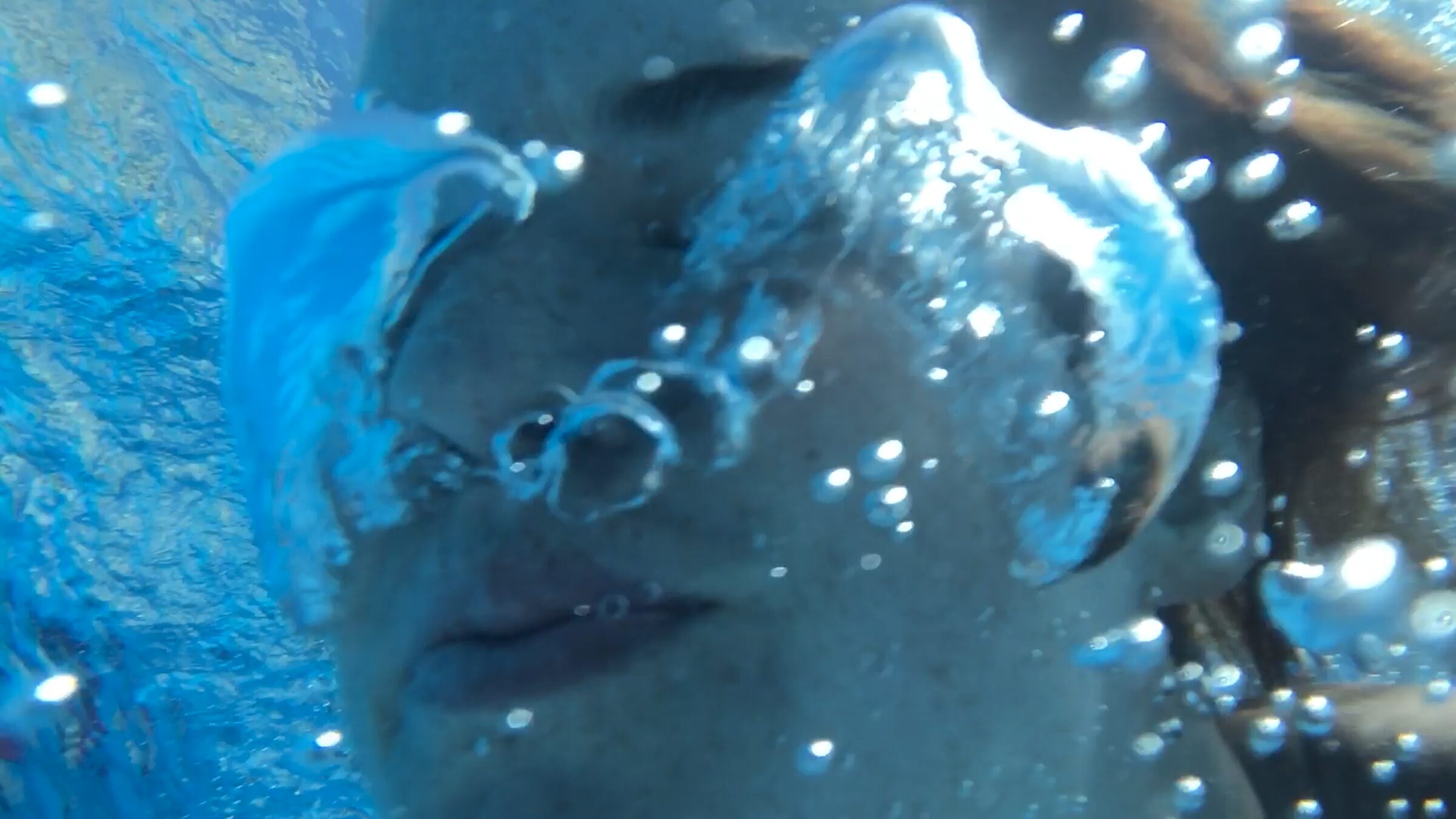 Borrowed Voices (2022)
12 min, six-spea­ker sound installation
Walking through Carmen Dusmet Carrasco's spa­ti­al six-spea­ker sonic instal­la­ti­on Borrowed Voices, one is immer­sed into a mono­lo­gue inte­ri­or that blurs and see­ps into a rhe­to­ri­cal and iro­nic dia­lo­gue, echo­ing the ​'thin­king pro­cess' as labor itself. Carefully scrip­ted per­so­nal wri­tings are mer­ged with col­lec­ted and bor­ro­wed frag­ments, ran­ging from Twitter and pod­casts to various inspi­ra­ti­o­nal texts and song lyrics. Carmen's sonic sca­pe bra­zen­ly dis­tills from the­se inter­tex­tu­al sour­ces a reve­rie of loop­ed and con­fes­si­o­nal voi­ces that echo our inti­ma­te and col­lec­ti­ve encoun­ters with modes of pro­cras­ti­na­ti­on, self-ques­ti­o­ning, and doubt.
The Swimming Pool (2020)
Documentary, 45 min, HD
The film is an inti­ma­te port­rait of a mother-daugh­ter rela­ti­ons­hip through the eye of a came­ra. The mother is sel­ling clo­t­hes on street mar­kets in Southern Spain. The daugh­ter is pur­suing a design mas­ter degree in Amsterdam. And what, bet­ween the­se things, is the dif­fe­ren­ce? It's a rhe­to­ri­cal ques­ti­on becau­se the­re may be no real dif­fe­ren­ce. Mother dri­ves a Ford van with the bright colou­red street mar­ket clo­t­hes in them, whi­le she moves from job to job, gig to gig, trying her luck at job appli­ca­ti­ons, living from day to day, and hand to mouth.
The Swimming Pool was devel­o­ped over the cour­se of a two-year domestic eth­no­grap­hic research invol­ving many tra­vels to Southern Spain. In an attempt to find what it means to prac­ti­ce care, Carmen Dusmet Carrasco devel­o­ped an obses­si­on with cap­tu­ring her mother's pre­ca­rious jour­ney towards reti­re­ment. What began as a socio-eco­no­mic stu­dy of fema­le pover­ty in Spain led to an inti­ma­te nego­ti­a­ti­on of a mother-daugh­ter relationship.
Projecting the ima­gi­na­ti­on of a youn­ger gene­ra­ti­on onto a futu­re that is unfol­ding, the film is an inter­ge­ne­ra­ti­o­nal prism. In its raw­ness, it una­po­lo­ge­ti­cally poses a con­fes­si­o­nal ques­ti­on: How can youn­ger gene­ra­ti­ons take care of the elder­ly whi­le safe­gu­ar­ding their own future?
Carmen Dusmet (b.1991)
is a Spanish grap­hic desig­ner & visu­al artist based in The Hague. Her work explo­res prac­ti­ces of care through design. She is inte­rested in co-cre­a­ting col­la­bo­ra­ti­ve metho­do­lo­gies of making and thin­king, with the sub­jects she works with. Beginning from per­so­nal expe­rien­ces, she focu­ses on how socio-eco­no­mic struc­tu­res affect indi­vi­du­al and col­lec­ti­ve iden­ti­ties. Through col­la­bo­ra­ti­ons, video, grap­hic design, sound, and text, her work speaks of self-repre­sen­ta­ti­on, iden­ti­ty, labour, fami­ly and inter­ge­ne­ra­ti­o­nal debt. She under­stands her work as a con­tem­pla­ting lens of an uncer­tain futu­re; a tool to obser­ve— and reflect on —the unpre­dic­ta­bi­li­ty of sur­vi­val, gro­wing up, ageing, chan­ge and hope. Currently, she co-runs Home Cinema, an onli­ne tem­po­ra­ry video broad­cast that res­ponds to the ques­ti­on: what can we see together now that we can­not see each other?
My Goals Are Bigger Than Yours
This pro­ject is part of Season #5 in Off the, Grid: My Goals Are Bigger Than Yours, orga­ni­zed by artists David Ghelli Santuliana, Valentino Russo, Cathleen Owens, Carmen Dusmet Carrasco & Arthur Cordier.