23.04.2022, 14:00—19:00

My Goals Are Bigger Than Yours: Vernissage Cathleen Owens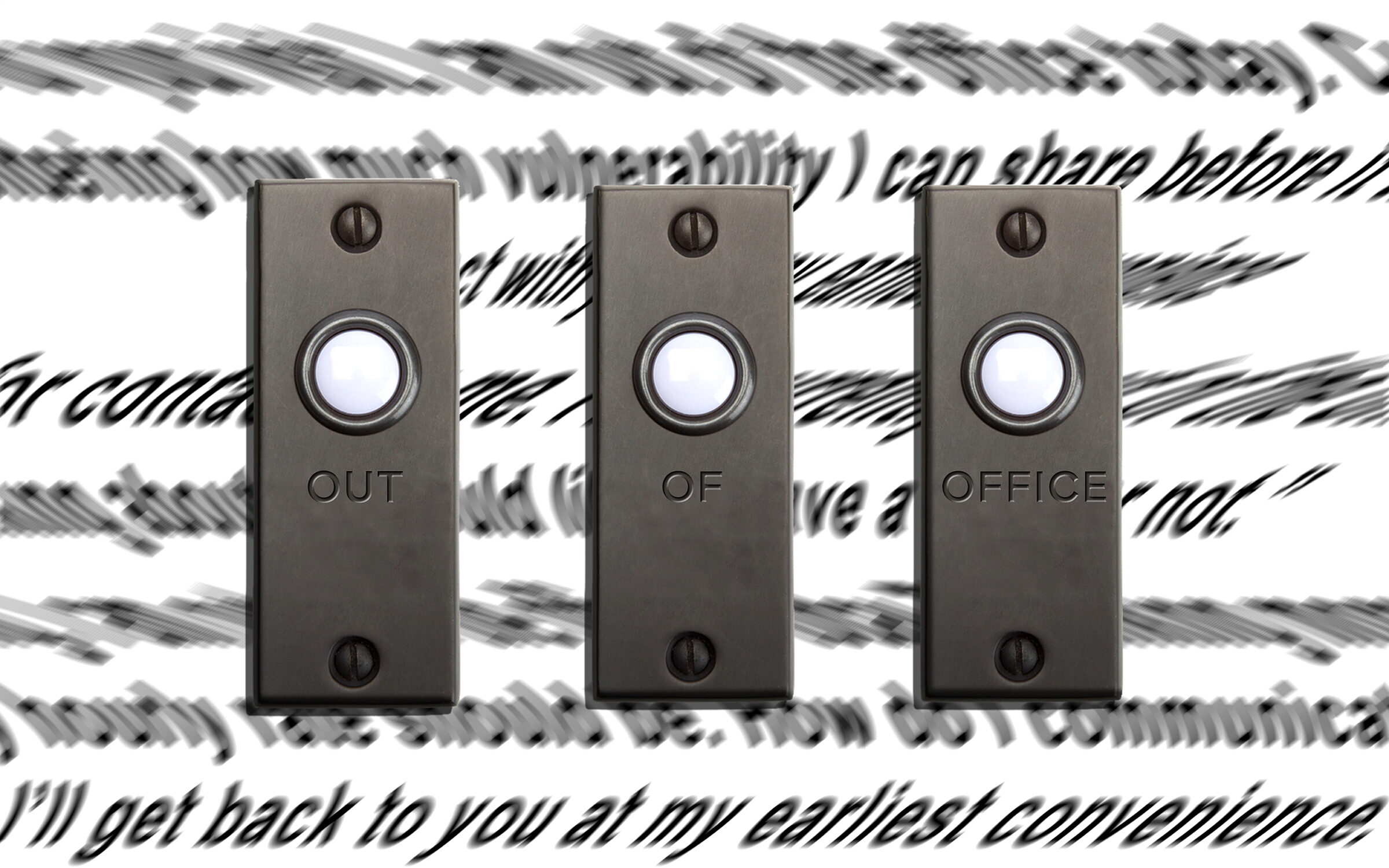 "Out of the pro­ver­bi­al office"
April 19 — May 28
From the 19th of April, Cathleen Owens will be in resi­den­ce at Cas-co, taking a week of annu­al lea­ve from her desk job in Amsterdam. From Monday, 19 April from 9am onwards, you are wel­co­me to ring the door­bell at Cas-co tit­led ​"Cathleen Owens" to recei­ve a chan­ging recor­ded mes­sa­ge. During this work week out of the pro­ver­bi­al offi­ce, the artist will record con­ver­sa­ti­ons with col­lea­gues about their rela­ti­ons­hip to work and rest.
"Thanks for your visit. I am out of the offi­ce today. Currently on a walk pon­de­ring how much vul­ne­ra­bi­li­ty I can sha­re befo­re it turns per­ver­se. I'll con­nect with you at my ear­liest convenience."
"Thank you for con­tac­ting me. I'm cur­rent­ly out of the offi­ce. Busy thin­king about if I would like to have a baby or not."
---
Are you an artist strug­gling with how to do it all? Or how to do it at all? Interested in joi­ning for a walk, drin­king a cof­fee, or wat­ching a film together? Contact via e‑mail (cathleenowens92@​gmail.​com) or Instagram (@cathleenowens).
---
Cathleen Owens
Cathleen Owens is a visu­al artist and com­mu­ni­ca­ti­ons con­sul­tant cur­rent­ly based in The Hague (NL). Cathleen works with the sub­jects of iden­ti­ty and self-repre­sen­ta­ti­on, cre­a­ting nar­ra­ti­ves cen­te­red around per­for­ma­ti­ve pro­duc­ti­vi­ty and well-being. Owens also ser­ves as co-foun­der and CEO of life­sty­le com­pa­ny Your Untapped Potential.
---
My Goals Are Bigger Than Yours
This pro­ject is part of Season #5 in Off the, Grid: My Goals Are Bigger Than Yours, orga­ni­zed by artists David Ghelli Santuliana, Valentino Russo, Cathleen Owens, Carmen Dusmet Carrasco & Arthur Cordier.